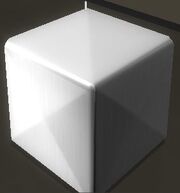 Chassis cubes are the basis of all vehicles in Robocraft.
Chassis cubes comes in 12 variants - Cube, Edge, Corner, Inner, Edge Round, Corner Round, Inner Round, Edge Slope, Corner Slope, Inner Slope, Cone, and Pyramid.
There are Glass versions but it costs GC to buy it.
Another type of chassis are Rods. These are light-weight and are commonly used for planes.
Helium is also counted as chassis.

Carbon 6 is a cosmetic chassis with the same stats as the cube.
Chassis
Type
Health
CPU
Cost
Robot
Ranking
Heal Rate
Mass
(kg)
Cube Cost
Lift
(kN)
Cube
1119
1
1
2.00
15.00
10
1
0
Edge
1008
1
1
1.80
7.50
10
1
0
Corner
855
1
1
1.53
2.50
10
1
0
Inner
1089
1
1
1.95
12.50
10
1
0
Edge Round
1079
1
1
1.93
11.80
10
1
0
Corner Round
1015
1
1
1.81
7.90
10
1
0
Inner Round
1110
1
1
1.98
14.20
10
1
0
Edge Slope
888
1
1
1.59
3.20
10
1
0
Corner Slope
716
1
1
1.28
0.80
10
1
0
Inner Slope
1002
1
1
1.79
7.20
10
1
0
Cone
915
1
1
1.64
3.90
10
1
0
Pyramid
949
1
1
1.70
5.00
10
1
0
Rod Short
3357
3
3
2.00
3.00
750
15
0
Rod Long
5595
5
5
2.00
5.00
1250
25
0
Rod L Shaped
3357
3
3
2.00
3.00
750
15
0
Helium
606
6
234
1.00
2.500
73811
535
1138
}